On Sunday 30 November 2014, a graduation ceremony was held at the Christchurch Transitional Cathedral.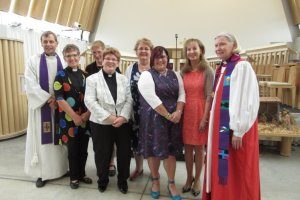 Five new graduates from the two year CAIRA pastoral supervision formational course received their certificates and licences from Bishop Victoria Matthews at a 2.30pm service on Sunday 30 November 2014  in Christchurch Transitional Cathedral.
National Director CAIRANZ The Rev Marilyn Welch, spoke about the value of CAIRA pastoral supervision for those involved in any aspect of ministry in faith communities as well as other pastoral and work situations.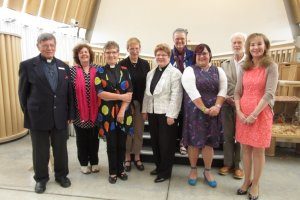 She spoke about it being the beginning of Advent with the importance of waiting and being prepared which is relevant for CAIRA. The metaphor of the 'Crowded Cathedral' which is parallel to a module in the training programme was highlighted.
This recognises that parts of the experiences everyone brings to situations need to be acknowledged in the supervisory process. Group  dynamics and co- creative leadership as adult learners as being  vitally important was outlined.
In response Bishop Victoria  emphasised the formational process as a core principle which does not come out of a book. She spoke about  the honesty and trust which is foundational to the relationship which builds up  between supervisor and supervisee as they reflect and explore issues involved in ministry.
Friends and family who had gathered to celebrate with the graduates, shared in conversation over afternoon tea following the service.